Background of the Project
The average monthly income in the Ribeira Valley is only about 600 Reais (about CHF 100) per family. Most people live very modestly. Social programs cover only the most minimal needs of the inhabitants. For a long time, the local population lived mainly from the timber and palm heart industry, as well as from sugar cane cultivation. With the establishment of the nature reserve PETAR, these meager sources of income disappeared.
Despite a clear prohibition, poaching and illegal wildlife trafficing therefore flourishes in the Ribeira Valley. The capture and sale of wild animals are financially attractive. However, the illegal wildlife trade threatens the biodiversity and ecological balance of this sensitive and protected area. It is known that up to 90 percent of trafficked animals perish miserably between capture and destination.
Some species of the Atlantic jungle are on the red list of endangered species, such as the Tigercat (gato-do-mato-pequeno, leopardus tigrinus) or the lion monkey. The latter is only rarely found in the jungle today. Because of their rarity, these endangered species are highly sought after by poachers.
Birds are also in great demand. The animals - especially parrots - are caught and hidden from the police in all possible and impossible transport containers. Depending on the size of the catch, toilet and cardboard rolls, milk packaging and similar containers are used (some years ago, 150 birds hidden in milk packaging containers were confiscated by the environmental police on the road between Iporanga and Barra do Turvo). Many animals suffocate in these cramped containers - or die from stress.
Destinations of the illegal animal trade are often European countries.
The Brazilian government fights against illegal animal trade. The Environmental Police arrests traders. However, the police do not have suitable infrastructures for a species-appropriate housing, care and release of confiscated - sometimes badly injured - animals. Thus, captured animals often are left in small cages even after "liberation" and vegetate away.
Shocked by such abuses, Martine and Pedro Schmid considered what they could do about this situation.
In a temporary facility, on their own property in Iporanga, they began to house confiscated animals, take care of them and then release them back into the Atlantic rain-forest. Their activities quickly gained recognition in the area and, by now, the rehabilitation and wildlife release center, which they had built with the aid of sponsors, is well established in the population as well as the Brazilian authorities, especially the Environmental Police.
At best, the confiscated birds are kept in this way by the environmental police that have no other means!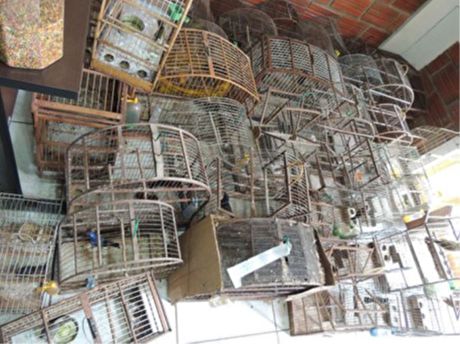 The video on the subject:
Cages confiscated from poachers